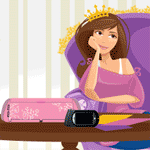 Hey there and welcome ...Today over at

Queen Of My Craftroom

is another fun Challenge. This Weeks Challenge is Mini Album: Theme~ Kids
So here is what I had made for this Challenge!!
I have made this little Mini Album for my daughter Haley! She is my pride and Joy!!
This is my first time using my zutter( Bind It All). All I can say is Easy and Amazing!

Now I know that there is No Matts for pictures to place. I did that on purpose because I have promised Haley that she can scrap whenever she comes to visit me at the Ronald Mcdonald House for her Spring Break! She can then finish her book and I will put pictures up later!
Thanks for stopping by..come back soon to see what I have created next!